Quick Summary:
Domain Authority (DA) is a metric you use to determine the ranking potential of your website. It ranges from 1 to 100. The higher the DA, the higher the ranking potential of your domain.
To improve your DA, build high-quality backlinks using off-page SEO strategies, such as blogger outreach, link reclamation, broken link building and PR.

Leverage on-page SEO strategies, including keyword optimization, content refresh, URL optimization,  meta tag optimization, fixing technical issues, strengthening the internal linking structure and improving page loading speed.

Create high-quality, relevant content, perform a 360-degree SEO audit, remove or disavow toxic links on your website and build high-quality backlinks to your website from authoritative sites in your industry.

Consistency is the trump to improving DA. Monitor the changes from time to time and tweak your SEO strategy accordingly.
Introduction
How to increase the Domain Authority of my website?
This is a common question that I encounter during almost all initial discussions with website owners.
Sometimes the website owners are obsessed and excited about increasing their Domain Authority.
But, does it really matter in achieving the overall SEO success?
Let's find out.
If you want to know more about Domain Authority, please use the Table of Content on the left of your screen to navigate.
How to Increase Domain Authority Score?
Before we start with the tips to improve Domain Authority, here is a quick video about the same uploaded by John Lincoln – Co-Founder, CEO – Ignite Visibility.
Improve the Off-Page SEO of Your Website
From the time DA came into existence, it has been widely used by the outreach team to understand the quality of a website.
Websites with high Domain Authority usually have a host of referring domains that are of very high quality.
If you're trying to improve the DA of your website, make an effort to acquire high-quality links from domains that have higher DA than that of yours.
This will accelerate the growth of your DA.
In addition to this, ensure that you're not getting links from websites with higher spam scores.
A high spam score might result in losing website authority.
By making sure that your site is getting links from high-authority, you give a positive signal to the Moz algorithms about the quality of your site.
Always keep a tab on the links pointing to your site.
If you have a higher number of spammy linking domains pointing to the site, the DA can be hit badly.
Always do a thorough backlink analysis and make an effort to remove any link with a spam score of more than 30%.
You also have to ensure that the external links on your website are not pointing to spammy domains.
If you're not sure about the quality of the website that you're linking back to, use the "no follow" link attribute to be on the safer side.
Disavowing the links using the Google Disavow Tool may also help in the long run in improving the DA of your website.
Here are the Different Ways to Get Quality Inbound Links to Your Site
1. Natural Links
The best way to acquire high-quality links to your website is by publishing content that is worth linking to.
As more people notice the content that you published, they may be interested in linking back to a useful resource.
This is the ideal scenario that Google recommends, but it's hard to come by.
There are many ways to publish content that is link-worthy.
It could be either content that is research-based or a linkable asset like an infographic or a graph.
This is a time-consuming process.
 But the links that are earned naturally have more worth than any other link that you build.
2. Blogger Outreach
This is one of the best and most successful ways of link building.
If looking to build authority and you're time-bound, blogger outreach is the best link-building practice to follow.
Get in touch with bloggers and webmasters who manage websites that cater to the same niche as yours.
Reach out to them with a guest post opportunity or ask them to cover the product or services that you offer.
You will receive a quick response, and the links will be placed naturally.
If you don't have the time to manually reach out to website owners, we can do that for you as part of our blogger outreach services.
3. Broken Link Building
This is another link-building strategy that's definitely worth trying.
Conduct a broken link audit of websites with high DA.  
Check if you can provide them with better content to link back.
This strategy opens win-win opportunities as the website can fix the issue with the broken link, whereas you get a quality backlink from a contextual website without putting much effort into writing a blog post.
4. Unlinked Mentions
You may come across websites that may have mentioned your brand name.
However, they may not have linked it back to your website.
Do an audit for the brand mentions you have received using SEMRush and shortlist the high Domain Authority websites.
Approach them and ask for a link to the brand anchor text.
5. Link Reclamation
There are chances that you may have lost some of the links that you earned.
By using Moz, SEMRush, and Ahrefs, you can find the lost links.
Try reaching out to the webmasters of the high DA website, asking them to get the links fixed for you.
6. Press Releases
Try doing PR for your website as well.
A lot of publishing websites have a very high Domain Authority.
Getting a magazine-quality link back from such sites is worth the effort.
You have the option to do paid PR and Organic PR.
Organic PR activity happens when the press finds that you're providing some value that's worth mentioning.
This usually happens with big corporations, but you can also do this if you have a well-crafted strategy.
Paid PR activities can also get you high-quality links from high DA sites.
However, some sites may charge you. 
Optimizing On-Page SEO
Improving the on-page SEO quality of your website is critical.
It will not only improve the domain rankings on Google but also increase the DA score on Moz. 
However, on-page factors do not directly affect the DA score.  
But if you do things wrong, it can impact the rankings on Google and indirectly reflect in your DA score. 
Moz has confirmed that its machine learning capabilities allow making intuitive changes to the DA based on fluctuations that happen on SERP.
So, when a new Google Algorithm Update is rolled out, the chances are that sites that lose positions may also witness a decrease in their DA score. 
If you intend to improve the DA by optimizing the on-page SEO factors, it's highly recommended to use the On-page Grader tool provided by Moz.
Using the On-Page Grader tool, you can check the on-page SEO strength of a page.
All you have to do is feed in the URL you want to check along with the focus keyword that you want to rank for.
Once Moz processes the on-page report, you get an overall on-page grade for your page, depending on many factors that Moz considers.
Meta Title, Description, Alt Text, Internal link, etc., are some of the factors that Moz considers while checking the on-page SEO score of your webpage.
The tool also displays areas that require the immediate attention of webmasters and also the best practices to follow for optimizing them.
I've covered an in-depth article on On-page SEO Techniques in which I have tried to include all aspects that Google and Moz consider while ranking a page based on the on-page strength.
Here is an overview of the thing that you must consider apart from writing quality and engaging content to improve your chances of increasing the Domain Authority of your website.
Keyword Optimization
Before you start writing the content for your website, ensure that you have a set of keywords that you want to rank for.
Getting the keywords right also means you're aligning the content with that of the target audience.
Writing content that nobody reads doesn't add value to your website and also to the target audience. 
The Freshness of the Content
Your content can become stale after a few years or even months.
This can cause your organic rankings and DA score to go down.
Since DA is also calculated based on the number of keywords that are ranking on the Google SERP, the moment a chunk of keywords loses the position, you might see a reduction in the DA score.
To ensure that the keywords remain on the top positions of Google SERP, you have to keep on updating the content that's driving the most traffic to your website. 
URL Optimization
The URL is sometimes the most ignored on-page factor.
Most of the time, the URL of a website is auto-generated by the CMS and is not SEO-friendly.
An SEO-friendly URL must follow some best practices.
Check out this post to know more about URL optimization best practices.
Meta Title
This is the most important aspect of on-page optimization and is considered one of the most important SEO ranking factors.
Failure to optimize the title can result in your pages not ranking on Google SERP and can result in your Moz Domain Authority not improving.
Since the On-Page Grader tool considers the Meta Title as an important component, there is a high chance that the DA of a website can fluctuate if the title is not optimized. 
Meta Description
Meta Description is not a ranking factor for Google.
However, when it comes to Moz, it considers the meta description as an integral on-page grading factor.
Failure to optimize the description with the focus keyword can reduce the overall ranking of your web page.
Heading Tags
Google has confirmed that the H1 and other heading tags used within a page give a clear indication about the different topics covered in the page.  
Image Alt Text
Another important factor that Moz uses to understand the quality of a page is the alt text used in the images.
According to Moz, using the focus keywords and the LSI keywords makes a "positive correlation" when it comes to better rankings on Google and also when it comes to improving the Domain Authority.
Internal Links
Internal links are also an important on-page ranking factor for Moz.
According to them, an optimal number of internal links will help in better crawling and also help users to navigate through different pages within the website.
Moz recommends not more than 100 internal links within a page.
This number is relative to the number of words on the page. 
Fix Technical SEO Issues
One reason why Google Algorithms penalize websites is because of their failure to follow the technical SEO best practices.
Too many 301 redirects, duplicate pages, lack of canonical links, etc., can lead to a drop in the domain rankings of websites.
In addition to this, you must also consider checking the Robot.txt, .htaccess file, the error codes, schema markup, and HTTP status code.
Page Load Speed
After Google announced the mobile-first indexing, one of the most important factors that Google considers while ranking websites is the page load speed.
Any site that falls behind the competitor when it comes to site speed can potentially see a drop in organic keyword positions. 
In addition to this, any site that has failed to make the transition to a mobile responsive version may also see a blackout from Google SERP.
All this can indirectly impact the Domain Authority of your website. 
3. Increase Your Social Signals
Although there is not much talked about the impact of Social Signals on DA, since Moz considers a lot of external factors before deciding the DA of a website, we believe that social signal is one of the factors. 
Even though Google is yet to confirm whether Social Signal is part of the algorithm, the pages that are ranking in top positions on Google SERP usually have a high social share. 
The way to increase the social signal of your website is to make sure that you actively share interesting posts through the official channels.
In addition to this, you can also add social media icons to the website so that Google can easily understand the signal. 
How to increase Your Domain Authority Score in 30 Days?
Let's come to the crux of the matter. How to build the Domain Authority of your website within 30 Days?
As I already mentioned, unlike the immediate changes that you see on Google SERPs after making a few tweaks to your content or through building backlinks, DA is hard to come by.
It takes a little time for Domain Authority to reflect on the effort you have put in. However, there are a few must-try methods to increase the DA of your website.
If you implement these best practices, you can make sure that the DA of your website increases in a matter of 30 days or less. So, here is the plan that you can swipe from us. Fear no charges.
Step1: Create High-Quality Engaging Content
Before kick-starting the on-page and off-page SEO optimization, make sure that you have content that's worth linking back to. Invest your time in writing long-form content.
It's proven that long-form content has a greater chance of attracting natural backlinks.
In addition to this, these types of content can rank for a higher number of keywords on search engines.
A content that attracts natural backlinks usually has a high on-page SEO score.
This, in turn, means that the page is highly optimized for the target keywords and has all domain strength to rank high on Google Search.
As more and more keywords start to rank on Google, Moz's Machine Learning Algorithm will start picking up the keyword from Google SERP and begins indexing.
At this point, you will start seeing minor improvements in your DA score.
Step 2: Link Audit
As you create link-worthy content, get your team to do a complete link audit of your website.
This step is specific to websites that are at least 3-four months old.
Using the Moz Link Research, you can identify the links that are pointing to your website.
You can also see the number of links gained and the number of links lost over the period of time
With the Link Research tool, select "Linking Domains" to get the list of domains that are linking back to your website.
You can also find the same in the Search Console report.
However, since we are striving to improve the DA of your website, it's ideal to use the data provided by Moz.
Check for the spam score of each domain linking back to your website.
One of the key reasons why the DA of websites reduces is due to the increase in the number of spammy domains.
Find a website with a Spam Score higher than 30%.
These are websites that can potentially impact the DA of your website.
However, this is relative.
If you have a website with 90+ DA, 85% of the links will be of very high quality. A few high spammy backlinks will not hurt your DA in such circumstances.
That said, if you have just started your website and have received less than 100 backlinks, you must consider removing the links that have a very high Spam Score as they have the probability of affecting the DA and SERP rankings of your website.
Create a list of the links that you want to get rid of by exporting the spammy domains from the Moz tool.
Step 3: Spammy Backlink Removal
Before you disavow the spammy domains, try to reach out to the individual bloggers and website owners of the sites and ask them to remove the links.
Since Moz is in no way associated with Google, the disavowed links cannot be detected.
The impact will come into effect only when the positions and the number of keywords ranking on Google increase.
Step 4: Disavow Toxic Backlinks
Create a list of domains with high spam scores and use the Disavow Tool to request Google not to consider the backlinks from these domains for ranking considerations.
It has to be noted that the Disavow is not an instant process; there is a lot of crawling and indexing that Google has to perform before all links are disavowed.
According to Google, this process can take as long as six months to complete.
For smaller websites with fewer referring domains to disavow, this process is going to be much faster-paced, and the visible changes in organic rankings will happen within a few weeks.
Step 5: On-page SEO Audit
Showcasing a website without errors is as important as building backlinks from high Domain Authority websites.
However, there are a lot of on-page SEO errors that your naked eye cannot detect.
To help you in doing the on-page SEO audit, try using Moz Site Crawl, SEMRush, or free SEO tools such as Screaming Frog.
If you're running a website with very few pages, it is recommended to use the Moz On-page Grader.
Find the on-page SEO issues lurking within the site and find the important solutions for improving the Domain Authority.
Step 6: Technical SEO Audit
Even though the lines that differentiate on-page and technical SEO are slowly getting blurred, we are listing it as a step because of its importance in building Domain Authority.
A website with a technical snag has no chance of making it to the top positions of Google SERP.
This means the natural backlinks that you get will be considerably reduced.
At the end of the day, this results in your Moz Domain Authority not increasing.
Try using the Moz Site Crawl tool to ensure your website is technically sound.
This tool does a great job of analyzing what really matters to improve your DA.
This includes a list of redirect errors, errors within Robots.txt, slow load time, canonical errors, and a host of 5xx errors that are critical to ranking on Google.
Apart from listing the errors, this tool also provides ample solutions to fix each of these errors.
Step 7: Fix On-page and Technical Issues
You have to ensure all the on-page and technical SEO errors are addressed and fixed in this stage.
Once you're certain that all the errors are fixed, run another round of auditing as reassurance.
Now that you have a perfect website at hand, people will love linking back to you.
Step 8: Start Link Building Activities
It's time to start the most critical step in building your website's Domain Authority.
Identify at least 6 long-form content within your website that people will love linking back to.
Find the low-hanging keywords (the ones that are on the second and third pages of Google SERP) with high search volume.
In the meanwhile, have a team lookout for prospective websites that you can reach out to.
You can follow the steps mentioned here to do successful blogger outreach.
To build high-quality backlinks, you can also try other link-building strategies such as broken link building, link reclamation, unlinked brand mentions, etc.
However, if you're doing blogger outreach, which is the most successful link-building practice nowadays, make sure you have a series of well-crafted outreach emails ready.
The success of blogger outreach campaigns depends largely on the outreach emails that you send to the prospective website owners.
Ensure that the most relevant long-form content is used as the reference within the email.
Also, make sure you send follow-up emails to the prospects whenever required.
NB: For a fairly new website to earn 100 high-quality backlinks, you have to send a minimum of 500-800 outreach emails.
Step 9: Create Outreach Content
Once you start getting positive replies to your outreach email, you may find a resource crunch to fulfill all the content requirements.
However, to improve the Domain Authority in a month's time, you have to make the links live ASAP.
To ensure you keep up the pace, outsource the content writing requirements.
Ensure that you give clear guidelines for the content to be written by freelancers or outsourcing agencies.
Most of the websites that accept guest posting will have a pre-set guideline.
It's best to share the same with the writers so that there is very little chance of content rejection.
In addition to this, some websites have clear guidelines regarding link placement, try to acknowledge this. 
The best practice to improve the Domain Authority is to build links to the high-quality long-form articles that you have already built.
Use the low-hanging keywords as the anchors for the backlinks that you are going to create.
This will ensure that the blog stays top on Google from high search volume keywords, and more people will come to the page.
This way, you can also earn natural backlinks, which again will increase the Domain Authority of your website.
Step 10: Share Content Via Social Media
As soon as the content goes live on the outreach website, share it within all your social channels.
You can also request the publisher to do the same and also ask him/her to use the article in the upcoming newsletter so that more people may find it interesting and give you a link back.
Step 11: Repeat Link Building and Content Strategy
Repeat the link building and content activities for the next few months and try to earn 200 + high-quality backlinks within 2 months.
You will start noticing improvements in the Moz Domain Authority Score of your website within the first 30 days, and the DA score will continue to increase as you do more blogger outreach.
Note: Reaching DA 100 should not be your priority. Your priority must be to get a DA higher than your closest competitors. If you're able to get a Moz Domain Authority higher than that of your competitors, this is a clear indication that you are ranking above them on Google and other search engines. 
What is Domain Authority (DA)?
Domain Authority or DA is a domain score developed by Moz to gauge the quality of a website.
As you may already know, Moz is one of the pioneering SEO solutions providers.
It's mostly believed that DA is calculated based on some of Google's primary ranking factors in its algorithm.
Let me make it clear; Domain Authority Score is not a direct Google ranking factor.
Often website owners complain that they have a high Domain Authority Score, but still no organic growth.
They are mistaken as there is no direct correlation between DA and Google. 
Google and Moz have categorically denied such claims multiple times.
However, this Moz metric has become a standard for analyzing the quality of a website.
It's often considered the best metric to predict the chances of websites appearing on the top of the SERPs.
Based on different factors, Moz assigns a score to a website.
This DA metrics score ranges from 1-100.
The higher the DA score, the better the quality of the site.
This also translates into higher chances of the website generating organic traffic and rankings on Google SERPs.
What Does Domain Authority Mean, Why is it Important?
We all know that Google's trump card to beat the rest of the search engines is its algorithm.
The secrecy kept behind the factors that it considers has been the talk of the town for quite some time. Google used the PageRank ToolBar to help website owners assess the quality of the site.
However, this extension got fewer updates starting in 2013.
It was finally scrapped after Chrome became the default browser for internet users.
With that, it became hard to assess the quality of websites.
Here is what Matt Cutts, the Former Head of the Google Web Spam Department, said while answering one of my queries back in 2014.
This was when Moz came into the picture with its advanced rank tracking metric called Domain Authority (DA).
As I told you in the beginning, don't confuse DA with PageRank.
The score that you see on the DA is not a metric that Google uses to rank websites on the SERP.
Google easily has more than 200+ different ranking factors and higher DA does not directly impact the rankings on Google SERP.
However, there are some common factors that the algorithms of Google and Moz share.
This is why a higher Domain Authority website is usually found on the top of the SERP.
Additionally, this is one of the reasons why DA is considered a standard by SEOs across the world.
What is My Domain Authority? Here is how you check it
DA is a Moz metric that is currently part of their Link Explorer tool.
Earlier, this tool was called Open Site Explorer.
Enter a website domain name that you want to check and search for.
Another easy way to check the DA of a website is by installing MozBar.
However, if you are an SEO who uses so many extensions, there are chances that the Moz Tool Bar may not work.
What is a Good Domain Authority, Is Low DA Bad?
Low DA is "not an indication" that the website is worthless.
A site with very low DA can rank on search engines if there is a lack of competition.
It takes some time for Moz to reflect the score as it follows the logarithmic scale.
As you increase your DA score, it becomes harder to achieve a higher DA.
For example, your site can easily reach 20-30 DA by following the best practices.
However, it becomes more challenging to raise DA from 31-40 and even more difficult to improve it from 70 to 80 DA.
That said, if you see an aged site with very low DA, it could be an indication of low-quality links and less traffic.
DA is a score is accumulated over a long period of time.
I would say the domain age plays a critical role in improving the DA score.
This means it's impossible to increase the DA of your website from 1-50 in a week's time.
The result of all your effort may reflect only after a few months.
One thing is sure:
A few changes here and there will not make your DA skyrocket.
If you want to improve the DA systematically without lagging behind your competitors, you have come to the right resource.  
How is Domain Authority Calculated?
The Domain Authority of a website is calculated based on many different factors.
Like Google, Moz hasn't revealed the crux of its algorithm.
However, Moz has confirmed a few incremental details about DA:
The number of inbound links pointing to a website from different domains

Contextuality of the link and the website linking to a domain

The quality of the web content and domain rankings on Google SERP

The on-page SEO score of the website
Moz has confirmed that it uses 40 different factors for checking the Page Authority.
It's more likely that an aggregate of these PA factors might be determinant in a website's Domain Authority.
Many websites have a DA of 90+.
That said, this shouldn't be a factor that demotivates sites with lower DA.
The DA score has to be always compared to your immediate competitors.
For example, you have shortlisted 4 top competitors, out of which 3 have less DA than yours and 1 with higher DA.
The one with the higher DA has a better chance of ranking higher on the SERP.
Check out this official video from Moz to understand how to use Domain Authority correctly.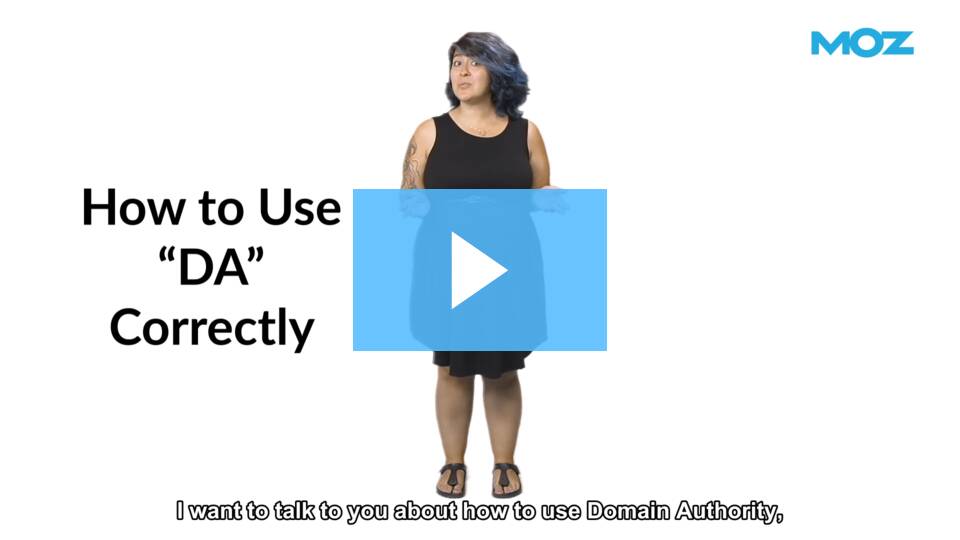 Moz Domain Authority vs Moz Page Authority
The terms Moz has come up with are self-explanatory for this question.
Domain Authority refers to the overall score assigned to a website, whereas Moz Page Authority refers to the quality metric of an individual page within a site.
Domain Authority and Page Authority are relative in nature.
The higher the aggregate Page Authority of a website, the higher will be the Domain Authority.
Can Moz Domain Authority Score Decrease?
In SEO, nothing is constant unless you make consistent improvements.
Likewise, Domain Authority is also subjected to changes.
However, this depends on a few factors, including how the machine learning model of Moz treats the quality of the links coming to the website.
So, let's say your website has a DA of 50, and this is based on the DA of 900 different domains that are linking to your website.
If the Moz algorithm finds a high spam score for 400 of these websites, there's a chance that your DA may fluctuate along with theirs.
This happened in 2019 when Moz decided to revamp the core algorithm that determines the DA score.
After the Domain Authority update, a lot of websites felt a fluctuation in their DA.
Many complained of a massive drop.
When analyzed, the sites that lost the DA were mostly getting link backs from low-quality sites.
Here are the reasons why the Domain Authority Might Reduce according to Moz:
Your link profile growth has not been captured in the web index.

High-authority sites experienced significant link growth, skewing the scaling process.

We crawled (and included) more or fewer of your linking domains than we previously had.

You earned links from places that do not contribute to Google ranking.

Your Domain Authority is on the low end of the scoring spectrum and is more impacted by scaling fluctuation.
Conclusion
Now you have it all.
You have just swiped all the information required to increase the DA of your website within 30 days.
However, these tips are most effective when you implement them on your website.
We also understand that you may be facing a resource crunch to deal with these activities.
Don't worry! We can always help you to put this plan into action.
Just ping us using the live chat, and we are all here to help raise the DA of your website.
Before signing off, always remember that DA has to be looked at as a long-term SEO goal, and it's a relative metric that works only when you compare it with the right competitors.
Comments